NewDeal Invest is an investment fund specialized in innovation, growth and the future. One of our key investment pillars is digital transformation, which is one of the growth drivers behind this report's topic: iGaming. This report will discuss the following topics and opportunities:
iGaming market overview: General overview of the market in terms of size, geographical distribution and expected growth rates.
Industry Overview: Here we will discuss the various industry participants, such as data providers, software providers and the operators.
Key Trends: This segment lays out various key trends, including offline to online transition as well as the growth of Esports Betting.
The US Market Opportunity: This chapter will lay out the US market opportunity, which is expected to 7-10x by 2025 and 12-25x by maturity. Furthermore we briefly discuss opportunities in surrounding regions.
Kambi: In our final segment we discuss our favorite way to play the mentioned trends and opportunities: Sportsbook software provider Kambi (STO:KAMBI).
Market Overview
iGaming or Online Gambling is playing or betting on the outcome of a game or event, online. One of the things we look for when evaluating a new idea is the TAM, Total Addressable Market. The online gambling market is expected to grow at a 11.5% CAGR between 2020 and 2027 to reach $127.3 billion by 2027. In other words, the iGaming market is a massive and growing market, with a lot of underlying growth opportunities. One of the opportunities we will highlight in this report is the US online sports betting opportunity, which according to Bernstein will grow at a ~50% CAGR between 2020 and 2025 to reach $15 billion by 2025.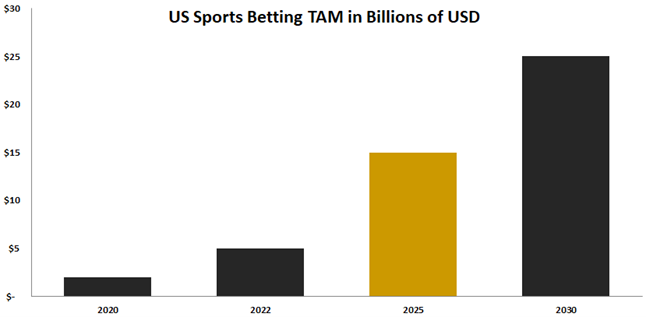 The iGaming market consists of six segments: Online Sports Betting (41%), Online Casino (34%), Online Poker (5%), Online Bingo (4%), Online Lottery (15%) and others (1%). Chart 1 shows the % share of GGR by segment, according to H2 Gambling Capital. GGR stands for Gross Gaming Revenue, which is equal to the difference between the amount players wagered minus the amount they win.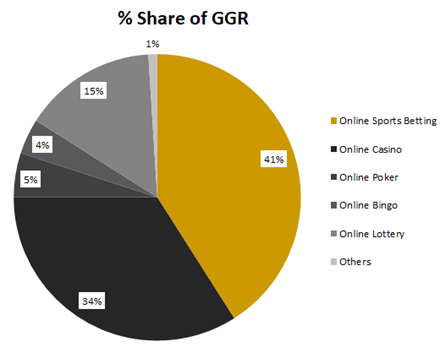 In 2017 Europe was by far the largest online gambling market, followed by the Asia-Pacific region. One of the key drivers behind Europe's success is the regulatory environment. Nearly 4/5th of Europe's GGR is generated in regulated markets, as opposed to grey and black markets. Grey markets are markets where iGaming is not illegal, but also not regulated. Black markets are markets where iGaming is illegal. Regulated Markets are different from grey and black markets in a few ways: 1. Operators are often allowed to advertise. 2. Governments tax, license and regulate operators 3. Regulators impose consumer protection rules.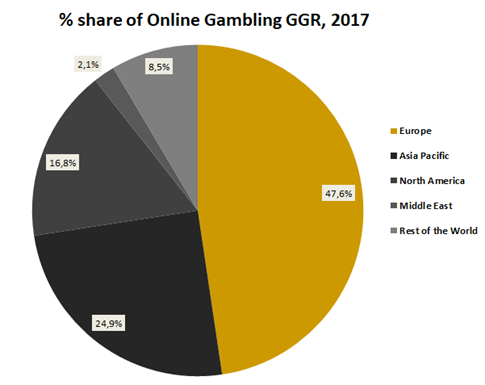 The Netherlands is an example of a country which will regulate online gambling in 2021, which should significantly increase the % of GGR coming from regulated operators. Under current regulation there is only one legal operator; the Dutch state. Despite having a virtual monopoly, they only have a 20% share of the Dutch online sports betting GGR. Regulating the market tends to lead to an inflow of legal operators as well as large sums of marketing spend, which over time results in an increase in the market size. The Netherlands' online gambling GGR as a share of total gambling GGR was only 17% in 2019 compared to 28.8% average in Europe, which can be attributed to the slow regulatory environment.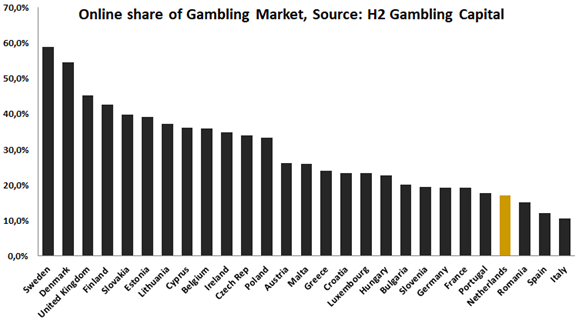 One of the largest industry tailwinds is the shift from offline to online gambling. COVID has accelerated this trend in a few ways:
Introduced many traditional offline casino players to online gambling, as physical casinos were closed
Increased regulatory momentum across the world and most notably in the Americas. States and countries are running significant deficits, which makes the tax income related to online gambling more attractive than before.
The following chart shows the positive impact COVID has had on online gambling GGR estimates, with 2025E estimates up nearly 40% compared to pre-COVID estimates: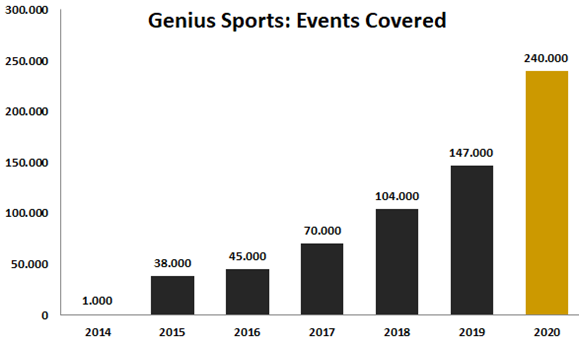 Suppliers
The software suppliers supply software, such as sportsbook software or casino games, to the operators. A few leading examples:
Evolution Gaming (STO:EVO): Evolution Gaming supplies online live casino "systems" to operators, which allows operators to offer live online blackjack, monopoly, roulette and many more live casino games to its players. Evolution has more than 200 customers, 70% market share and a $27 billion market cap. Evolution acquired Netent in 2020, which significantly expanded Evolution's Slots offering.
Kambi (STO:KAMBI): Kambi is the leading sportsbook supplier, which allows physical casino and online operators to offer sports betting to its clients. Kambi powers many of the leading operators, such as Rush Street, Draftkings, Penn National, Kindred and more. Kambi has a $1.7 billion market cap.
Most software suppliers have a variable revenue stream, which is a function of client NGR (Net Gaming Revenue). Net Gaming Revenue is defined as Gross Gaming Revenue minus tax deductions, chargebacks and bonuses. Most software suppliers have typical software unit economics: high gross margins, high fixed costs and (very) high incremental margins. These businesses should be very profitable at scale, as Evolution and Kambi show. The following graph shows a valuation comparison table of some of the listed suppliers using Factset analysts' consensus data, where the colors represent relative strength. For example, Evolution and Kambi's 2021E EBIT margins are more attractive (green) than Gan and Bragg Gaming's 2021E EBIT margin (red).

Operators
iGaming operators are consumer-facing brands operating an online gambling app and/or website. Most operators can be grouped into either one of the following two groups:
Strictly online operators: These operators only operate online and do not have any physical casino presence. The most notable is Draftkings (NASDAQ:DKNG).
Physical Casino operators with online presence: These operators leverage their physical casino operation to acquire online users. Good examples are Penn National (NASDAQ:PENN) and Golden Nugget (NASDAQ:GNOG). These operators are mostly biased towards outsourcing a large part of their online back-end, as they do not have technical know-how and culture to pull a full in-house operations off.
The operators usually run huge losses when a new market opens up, due to high customer acquisition costs. This is exactly what we are seeing in the United States, where operators are spending a lot of money to acquire users in newly regulated states. Operators such as Draftkings, Pointsbet and Rush Street for example have deep negative EBIT margins as they are trying to win share in fast growing markets such as the United States. Operator's EBIT margins tend to trend towards mid to high teens in mature markets, as shown by more mature operators such as Kindred, Flutter and 888.

Key Trends
Inside this massive growing market we have identified a few key trends.
Increasing Online and Mobile Penetration
Legalization of online sports betting in the Americas
Esports betting. In this trend two of our investment themes come together: gaming/esports and betting.
Increasing Online and Mobile Penetration
As of 2019, 55.9% of Europe's online GGR was generated through Desktop, and 44.1% through mobile and tablets. However, H2 Gambling Capital estimates that by 2025 mobile and tablets will account for more than 58% of online gambling GGR. This trend is driven by a few factors:
Increasing adoption of mobile and tablet devices.
Operators adopting a mobile-first strategy.
Players being increasingly comfortable with gambling/betting on mobile.
Mobile penetration differs significantly per online gambling segment. Online sports betting, for example, is much more suited for a mobile-first strategy than online poker and thus online sports betting related businesses are the main beneficiaries of this trend.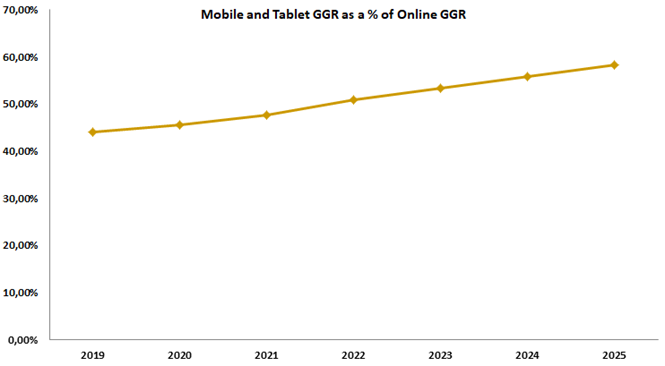 Increasing Online and Mobile Penetration
While traditional sports were cancelled during the worst months of the pandemic, esports tournaments were able to transition to an online format relatively easily and continue as planned. Given the limited number of alternatives, esports attracted new viewers as well as new bettors. Esports betting platform Luckbox reported an increase of over 50% in new players on March 18th. According to Loot.Bet, 94% of the esports bettors are male and 78% is between age 18-25. The global esports betting industry is estimated to have grown 44% annually over the past four years.
Traditionally, CS:GO, League of Legends and Dota were responsible for 85% of esports betting, according to Narus Advisors and Eilers & Krejcik Gaming. Due to the inflow of players not familiar with traditional esports games, the more mainstream esports titles saw disproportional growth. Oddsmatrix betting data shows a 40x increase in the total betting amount on FIFA and NBA2k in the 3rd week of April compared to the second week of March (The State of Esports Betting 2020 by everymatrix). OddsMatrix noted that more than 80% of all esports bets were placed on FIFA and NBA2k. In other words, the inflow of traditional sports bettors led to a significant change in esports titles' market share of betting volume. The market share of esports bettors rose from 2% on March 9th to 27% after March 16th (The State of Esports Betting 2020 by everymatrix).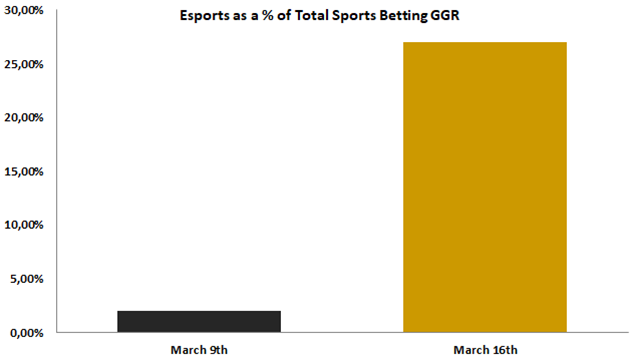 Luckbox reported a nearly doubling of average esports bet size in March compared to February, suggesting the absence of traditional sports drew large bettors to esports. According to EveryMatrix, the average bet value during the lockdown of esports was €17.20, compared to €18.90 of traditional sports. This is in particular impressive when considering esports matches are shorter than traditional sport matches, one of the reasons esports bettors bet more often than traditional sports bettors.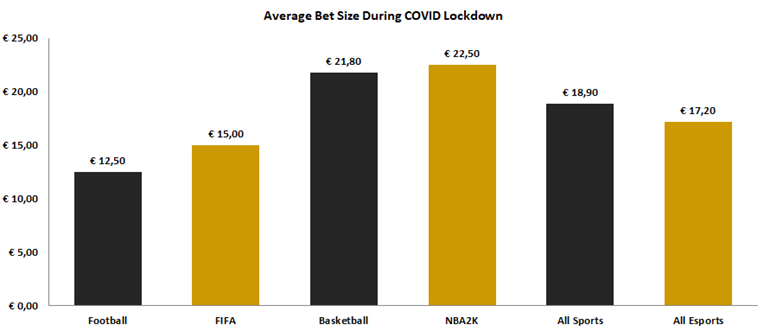 H2 Gambling Capital estimates the global esports betting TAM will reach $862 million by 2024E, up from $343 million in 2020E. As a percentage of global betting GGR, esports is set to increase from 1.6% in 2019 to 3.2% in 2024E. This shows the growth of esports betting, but also shows how much room there is to grow beyond 2024E. US esports GGR is expected to grow at a 47% CAGR between 2019 and 2024, reaching $181.3 million GGR by 2024E. Europe's share of total esports GGR is expected to decline from 61.6% in 2019 to 39.1% by 2024E, showing the region's relative maturity compared to other regions.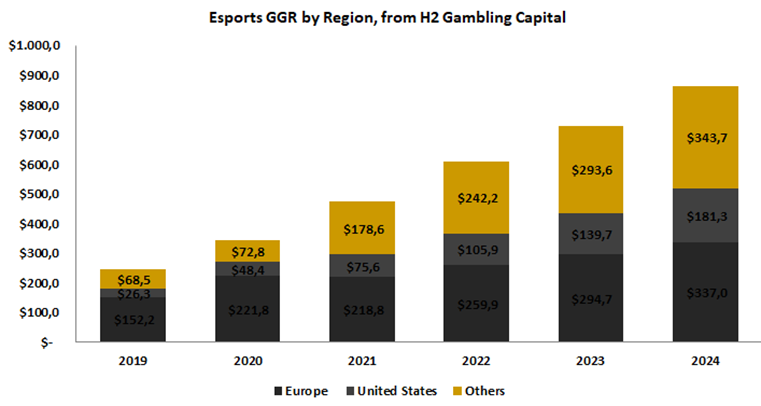 While the regular sports betting platforms seem well positioned to capture the esports betting opportunity, there are a few listed pure plays:
Real Luck Group Ltd (TSXV:LUCK): Real Luck Group is the parent company of Luckbox.com, a global esports wagering website. Luckbox furthermore integrates stats, schedules and live streams and thus provides esports fans with the full entertainment experience. Luckbox claims to accept bets on 99% of total esports matches, more than any other competitor.
Esports Entertainment Group (NASDAQ:GMBL): Esports Entertainment Group owns a variety of esports-related assets, including esports betting platform Vie.gg.
FansUnite entertainment (CSE:FANS): FansUnite Entertainment acquired Askott Entertainment, an esports betting platform that also offers a B2B platform.
Although these platforms started as esports betting platforms, both Luckbox and Vie.gg have added traditional sports wagering the past year. Luckbox's Quentine Martin notes "Luckbox is a world-leading destination for esports betting, but we know most of our players also love traditional sports".
Market focus: Americas Online Sports Betting Opportunity
The United States Online Sports betting story starts in 1992, where congress enacted Senate Bill 474: Professional and Amateur Sports Protection (PASPA). This bill banned all single-game wagering in the United States with a few small exceptions. One of the exempted states is Nevada, which saw its first sports betting app launch in 2010. In 2018 the Supreme Court of the United States struck down PASPA and allowed states to decide whether to allow online sports wagering on their own, paving the way for mass legalization. Since then, we have seen regulatory momentum in many states. As of February 2021, 22 states have legalized sports betting in one way share or form and 14 (15 including Washington D.C.) states have legalized online sports betting. Please note that some states have legalized sports betting but are yet to launch.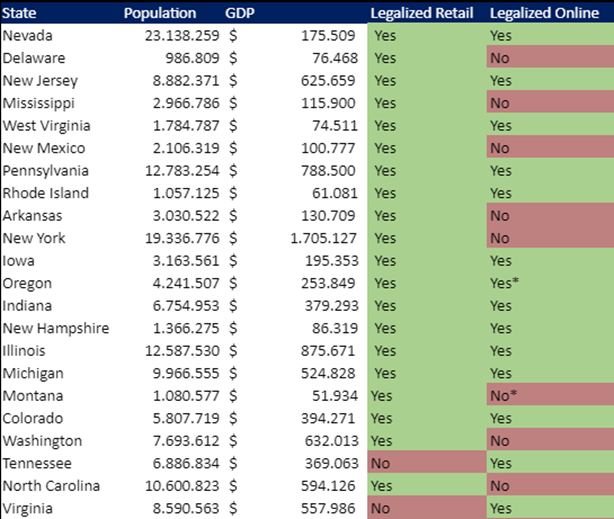 As mentioned before, COVID has accelerated the legalization timeline as states are trying to reduce – the due to COVID widened – deficits. The following map shows which states have legalized sports betting as well as possible states legalizing in 2021 and 2022. Macquarie estimates 96% of the US population will be able to place online sports bets by 2025.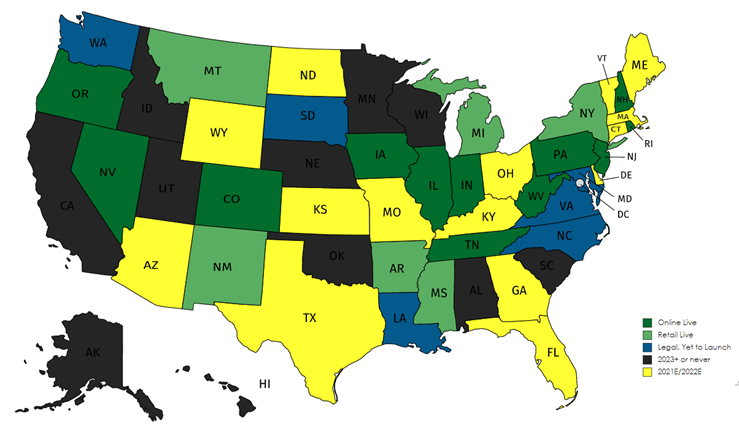 The United States Sports Betting Market has various growth drivers:
New states regulating online sports betting or existing states changing the regulation in a market favorable way, e.g. expanding the number of allowed operators.
GGR per player. GGR per player will gradually increase as players get more comfortable with sports betting as well as start structurally integrating sports betting into their sports viewing experience.
Sports betting penetration. After the initial spike in sports betting penetration, the penetration will gradually improve and reach maturity 3-5 years later.
These three tailwinds will provide the industry with a lot of growth the next 5-10 years. The US sports betting market GGR was ~$2 billion in 2020 and is expected to 7-10x by 2025 and 12-25x by maturity, as shown by the following chart:
Latin America and Canada
Other countries in the Americas region are seeing similar regulatory momentum:
Chile: Chile's Ministry of Finance announced at the start of February 2021 that it plans to introduce a bill to regulate iGaming in 2021Q1. The bill will propose the legalization of online sports betting, online casino as well as other forms of online gambling. Chile is home to nearly 19 million people and a GDP of more than $300 million.
Argentina: Argentina works similar to the United States, where states regulate online sports betting regionally. Just 7% of gambling GGR is from online operations, so iGaming has a long runway for growth and we are seeing similar regulatory momentum as in the United States.
Canada: A bill legalizing single-game sports wagering was passed on February 17th 2021, which paves the way for another market to go live this year. The market could be taking its first bet between in the second half of 2021 if everything goes as planned.
Brazil: Brazil is expected to accept the first legal online sports bet in early 2022, ahead of the 2022 Football World Cup. Brazil is home to 213 million people many of whom are big football fans, which creates huge opportunities for those active in the market. The Brazilian market could generate between $1 billion and $1.5 billion by 2025 according to Gambling Compliance, which would make it one of the largest sports betting markets in the world.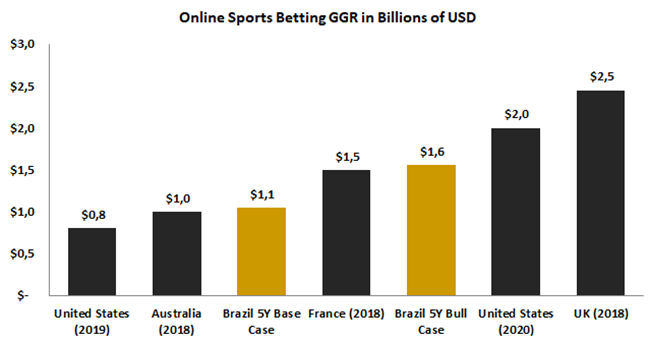 To summarize, the Americas iGaming market is set to explode in size the next 5-10 years, providing numerous growth opportunity for operators, data suppliers and software providers. A few examples:
Score Media and Gaming Inc. (TSE:SCR): TheScore is the largest Canadian sports website and claims to have 2x more MAU (Monthly Active Users) than the second player and 8x more MAU than the fourth player. TheScore furthermore operates its own sports betting platform. TheScore uses its media business to drive traffic to its sports betting platform, resulting in significant lower CaC (Customer Acquisition Costs) than competitors. TheScore is thus well positioned to take a significant share of the Canadian online sports betting market.
Kambi (STO:KAMBI): Kambi is a B2B sportsbook software provider with large Latam and US exposure. Despite the regions being in early growth stage, Kambi already derives 58% of sales from the Americas. Kambi could see its revenue more than triple over the next 5 years if they meet the 20-25% mature market share estimates.
Rush Street (NYSE:RSI): Rush street is one of the leading US online casino players and is furthermore well positioned in Latin America. Rush street sees a potential to reach $1.5-$2.4 billion US revenue based on a 4-6% US online sports betting and 5-7.5% US online casino market share.
Kambi
Kambi is the leading B2B provider of sports betting software. Kambi provides the full sportsbook platform technology such as odds compiling and risk management. Clients include Penn, Kindred, Draftkings, Rush Street and many more. Kambi is our favorite way to play the iGaming trend for a number of reasons, including:
Fantastic unit economics and margin profile.
Long runway for growth due to high % US and Latam exposure.
An attractive valuation which in our view does not reflect the business quality and growth runway
Strong market leading competitive position.
Business Model
Kambi operates a revenue-sharing based business model, where it takes 10-12% of its client's NGR (Net Gaming Revenue). This type of business model is great because it aligns interests with clients as well as allows Kambi to scale with its clients, which is great in a fast growing industry. Kambi has typical software like unit economics: 90s % gross margins, high fixed cost base and very high incremental margins. About 75-85% of Kambi's incremental revenue drops to the pre-tax earnings line, which results in incredibly high mature margins.
Given Kambi's incremental margin profile you naturally see significant margin improvement as the top-line scales. Kambi hit a real inflection point in 2020Q4, where its EBIT margins exploded to 47.3% compared to 23.1% in 2019Q4 and 23.3% in 2020Q3.
The following graph shows Kambi's EBIT margin trajectory, as well as our estimates for 2021E and 2025E EBIT margins: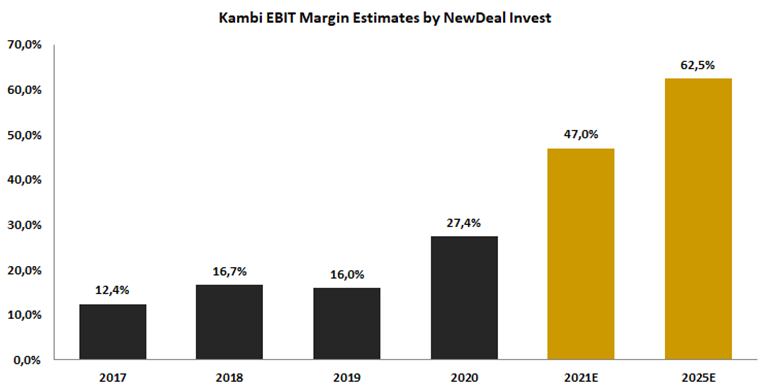 Growth Runway
When looking at Kambi's margin profile you would assume it is a mature business, but nothing could be further from the truth. In 2020Q4, 58% of Kambi's sales came from the Americas, which is still in early growth stage. As we have laid out in this report, the United States online sports betting market alone will 7-9x between 2020 and 2025E and 12-25x between 2020 and 2030E. Kambi powers some of the US and Latam leading operators, such as Penn National Gaming (Barstool Sportsbook), Rush Street, Kindred (Unibet), Churchill Downs and many more. We thus believe Kambi is well positioned to capture the growth opportunity and generate significant top-line growth going forward.
Kambi currently has a 40-50% market share in the US, but we expect this to decrease to 20-25% five years out. The main reason is that Kambi will lose Draftkings as a client in 2021Q3, which will have an impact on
We assume Kambi reaches a 20-25% blended market share on a ~€20 billion Americas TAM, which in addition to €100 million Europe + others revenue suggests Kambi's sales will more than triple between 2020 and 2025E and reach €400 million by 2025E.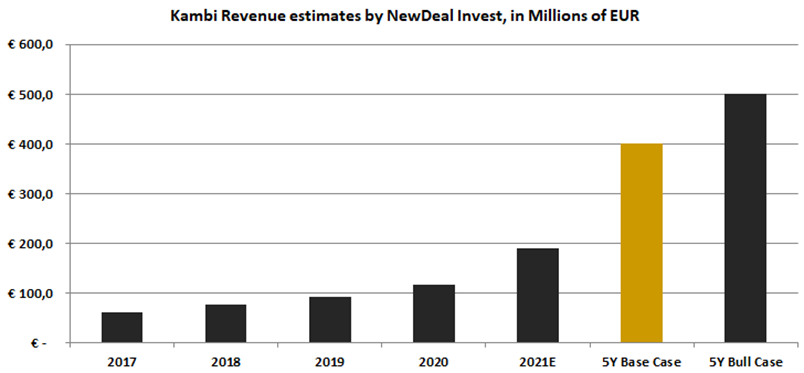 Risks
Despite the in our view favorable risk/reward profile, there are a number of risks:
Large clients could in-house the services Kambi provides. When a client gets really large it might make sense to in-house the services Kambi provides from a cost saving perspective. Draftkings for example acquired Kambi's main competitor SBTech in order to in-house Kambi's services and is set to leave Kambi after 2021Q3. While this means Kambi will lose a decent percentage of sales (high teens to low twenties % in 2021Q1E – 2021Q3E), it on the other hand meant it removed Kambi's main competitor from the field. It helped Kambi win deals as well as acquire former SBTech clients who were not happy with a competitor taking over their supplier.
Customer concentration risk, as Kindred represents 30% of Kambi's sales. While the risk of Kindred leaving is low given that Kambi is a Kindred spin-off, there is a risk of Kindred getting acquired by a non-Kambi client.
Our market share and/or TAM estimates could be too optimistic.
Valuation
Kambi has an enterprise value of €1.48 billion, which suggests the company trades at 7.5x our 2021E sales estimate and 16.5x our 2021E EBIT estimate and 5x our 5Y out EBIT estimate. We believe Kambi's current valuation does not reflect its business quality, growth runway as well as potential future margin profile and thus we view Kambi's valuation to be attractive. The following table shows the impact of various assumptions on our 5Y out EUR EBIT estimates.